White House Chief of Staff Donald Regan giving Bob Dole a Peace Pipe | Robert and Elizabeth Dole Archive and Special Collections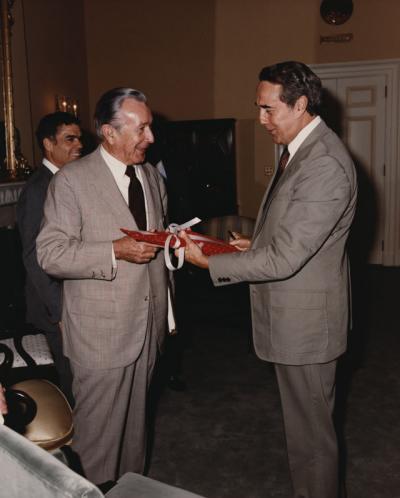 ph_022_001_002 (JPEG Image, 97.28 KB)
Download Original File

To request a hi-res copy, contact us at dolearchives@ku.edu
Title:
White House Chief of Staff Donald Regan giving Bob Dole a Peace Pipe
Date:
1985-07-22
Description:
Regan, Donald and Dole, Robert J., 1923-). Donald Regan is standing in front of Bob Dole and giving him a present [Peace Pipe]. Bob Dole is holding onto it and looking down at it. There are chairs, a mirror, and a door visible in the background. Also, there is an unidentified person visible in the background. The inscription on the back of the photograph says, "U.S. SENATE PHOTOGRAPH JUL 22 1985."
Phys. Desc:
Color; 8"x10" photograph.
ID:
ph_022_001_002
Repository:
Robert and Elizabeth Dole Archive and Special Collections
Found in:
Rights:
U.S. Senate photograph; public domain