Bob and Elizabeth Dole with Vice President Hubert Humphrey at building dedication | Robert and Elizabeth Dole Archive and Special Collections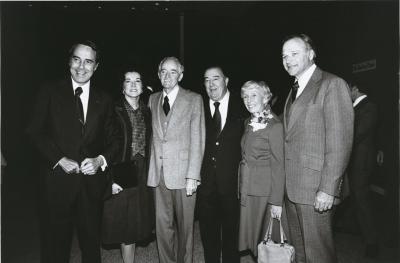 ph_019_035_002 (JPEG Image, 170.06 KB)
Download Original File

To request a hi-res copy, contact us at dolearchives@ku.edu
Title:
Bob and Elizabeth Dole with Vice President Hubert Humphrey at building dedication
Date:
1977-11
Description:
Dole, Robert J., 1923-; Dole, Elizabeth Hanford; Humphrey, Hubert H. (Hubert Horatio), 1911-1978; Randolph, Jennings, 1902-1998; Brown, Muriel Buck Humphrey; Quie, Albert H., 1923-; Bob and Elizabeth Dole standing with Hubert Humphrey and others during dedication of Hubert H. Humphrey Building.
Phys. Desc:
Black and White; 8"x10"; landscape, white border
ID:
ph_019_035_002
Repository:
Robert and Elizabeth Dole Archive and Special Collections
Found in:
Rights:
Photo by Lillian M. O'Connell.  All Rights Reserved.