Bob Dole at Republican National Convention | Robert and Elizabeth Dole Archive and Special Collections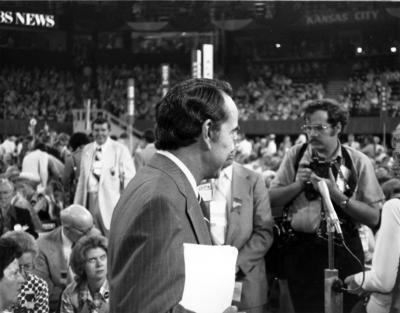 ph_142_02_005.jpg (JPEG Image, 174.15 KB)
Download Original File

To request a hi-res copy, contact us at dolearchives@ku.edu
Title:
Bob Dole at Republican National Convention
Date:
1972
Description:
Bob Dole is shown standing [profile view] in the Convention Hall during the Republican National Convention in 1972.  The large auditorium is full of people. A cameraman stands nearby. [The convention that year was held at the Miami Beach Convention Center in Miami Beach, Florida]
Phys. Desc:
B & W, 8" x 10" photograph. [Note a color version of this image is also available].
ID:
ph_142_02_005
Repository:
Robert and Elizabeth Dole Archive and Special Collections
Found in:
Dole Photograph Collection, 1900-2011