Dole outside City Hall in Pass Christian, Mississippi | Robert and Elizabeth Dole Archive and Special Collections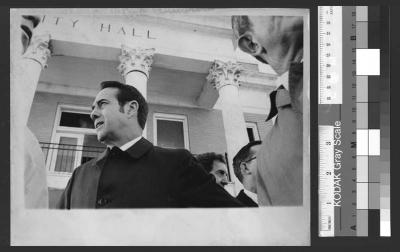 dip.pres_2_731.jpg (JPEG Image, 55.19 KB)
Download Original File

To request a hi-res copy, contact us at dolearchives@ku.edu
Title:
Dole outside City Hall in Pass Christian, Mississippi
Date:
1970-01-09
Description:
Senator Dole stands in front of the City Hall at Pass Christian, Mississippi. January 9, 1970. Senator Edmund Muskie and another man stand behind him.
Phys. Desc:
Black and white, 8" x 10" photograph. Some discoloration to photograph, front and back, possibly water stains. Inscription on reverse in blue ink reads: "City Hall Past Christian, Miss. Jan. 9, 1970"
ID:
pres_2_731
Repository:
Robert and Elizabeth Dole Archive and Special Collections
Found in:
Dole Photograph Collection (Old Arrangement - For Reference Only), 1880-1996


[information restricted]