Nixon Welcoming Party by Goldwater girls at Airport | Robert and Elizabeth Dole Archive and Special Collections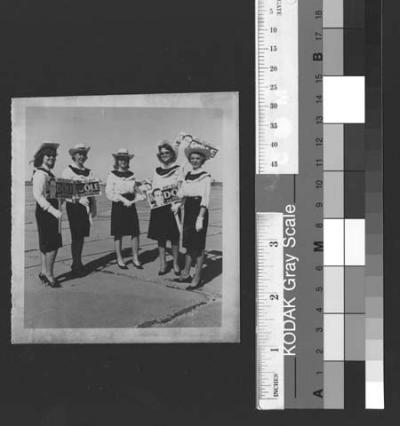 dip.pres_2_729.jpg (JPEG Image, 38.54 KB)
Download Original File

To request a hi-res copy, contact us at dolearchives@ku.edu
Title:
Nixon Welcoming Party by Goldwater girls at Airport
Date:
1964
Description:
Snapshot shows five women wearing cowboy hats with hatbands reading [Goldwater?], dark skirts, high heels and white blouses with circular collars. The collars have "Goldwater" inscriptions. They are holding signs reading "Re-elect Dole-Republican Congress." The signs have an illustration of Bob Dole's head with the Capitol building behind him. Inscriptions on reverse side of photograph: [in pink ink] "Goldwater Girls from Wichita [KS] at airport-Nixon Welcoming Party"--[Darwinne Hokinson?]; [In blue ink] Fall, 1964 Campaign; [in pencil] 1964 House Campaign.
Phys. Desc:
B&W snapshot, 4" x 4 1/2;" Photograph shows discoloration and wear.
ID:
pres_2_729
Repository:
Robert and Elizabeth Dole Archive and Special Collections
Found in:
Dole Photograph Collection (Old Arrangement - For Reference Only), 1880-1996


[information restricted]