Bob Dole standing with mother, Bina Dole, Russell, Kansas | Robert and Elizabeth Dole Archive and Special Collections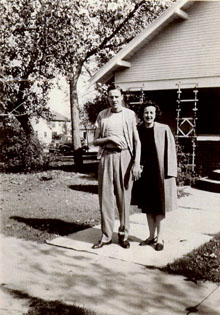 ph_005_016_001 (JPEG Image, 58.56 KB)
Download Original File

To request a hi-res copy, contact us at dolearchives@ku.edu
Title:
Bob Dole standing with mother, Bina Dole, Russell, Kansas
Date:
c. 1946
Description:
Photocopy of a photograph of Bob Dole standing on the sidewalk with him mother, Bina Dole in front of a house. Bob Dole's right arm is bent at the elbow. Dole was recovering from war-time injuries.
Phys. Desc:
B & W photocopy of a snapshot.
ID:
ph_005_016_001
Repository:
Robert and Elizabeth Dole Archive and Special Collections
Found in: