Pencil sketch of Bob Dole recovering from wounds | Robert and Elizabeth Dole Archive and Special Collections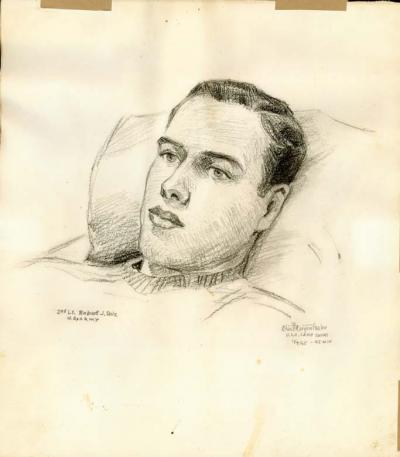 dip.ovs_16_11024_m.jpg (JPEG Image, 55.7 KB)
Download Original File

To request a hi-res copy, contact us at dolearchives@ku.edu
Title:
Pencil sketch of Bob Dole recovering from wounds
Date:
1945-11-09
Description:
Pencil drawing 11 1/2" x 13" portrait of 2nd Lt. Bob Dole by Charles Morgenthaler, showing Bob Dole from the shoulders up, lying in a hospital bed as he recovered from war injuries. The inscription at lower right has signature of artist and reads: "USO camp shows 11/9/45 45 min." Pieces of brown tape are visible at upper portion of paper.
Phys. Desc:
A digitized image of a 11 1/2" x 13" pencil drawing that was rendered on cardstock-type paper.
ID:
dip.ovs_16_11024
Repository:
Robert and Elizabeth Dole Archive and Special Collections
Found in:
Dole Photograph Collection (Old Arrangement - For Reference Only), 1880-1996


[information restricted]
Rights:
Charles Morgenthaler, artist.