Bob Dole at his 65th birthday party | Robert and Elizabeth Dole Archive and Special Collections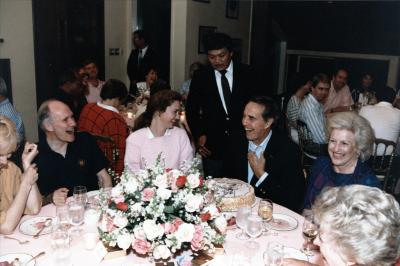 ph_050_012_001.jpg (JPEG Image, 290.88 KB)
Download Original File

To request a hi-res copy, contact us at dolearchives@ku.edu
Title:
Bob Dole at his 65th birthday party
Date:
1985-07-22
Description:
Quayle, Dan, 1947-; Dole, Elizabeth Hanford and Dole, Robert J., 1923-. Bob Dole is sitting at the front table. He is smiling and has his left hand on his chest. There is a cake in front of him. He is surrounded by unidentified people. At the back left table there is Dan Quayle and Elizabeth Dole. There are two door ways and portraits visible in the background. The stamp on the back says, "Official White House Photograph 22 Jul 89."
Phys. Desc:
Color; 8"x10" photograph.
ID:
ph_050_012_001
Repository:
Robert and Elizabeth Dole Archive and Special Collections
Found in:
Rights:
Official White House photo; public domain