Bob Dole with Elizabeth Dole and Dan Quayle, George H.W. Bush and Bob Michel | Robert and Elizabeth Dole Archive and Special Collections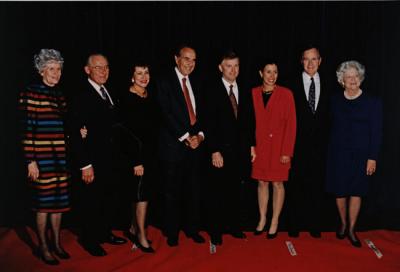 ph_021_012_002.jpg (JPEG Image, 52.53 KB)
Download Original File

To request a hi-res copy, contact us at dolearchives@ku.edu
Title:
Bob Dole with Elizabeth Dole and Dan Quayle, George H.W. Bush and Bob Michel
Date:
1992-11-10
Description:
Woodruff, Corinne; Michel, Robert H., 1923-; Dole, Elizabeth Hanford; Dole, Robert J., 1923-); Quayle, Dan, 1947-); Quayle, Marilyn T.; Bush, George, 1924-) and Bush, Barbara, 1925-). Bob Dole is posed with Elizabeth Dole (to his right) beside her are Congressman Bob Michel and his Wife, Corinne. To the left of Bob Dole is Vice President Dan Quayle and his wife, Marilyn Quayle. To Marilyn Quayle's left is George H.W. Bush and Barbara Bush. They are standing on a red rug [?]. There is tap with their names visible on the rug. The stamp on the back says, "OFFICIAL WHITE HOUSE PHOTO 10NOV92."
Phys. Desc:
Color; 5"x8" photograph.
ID:
ph_021_012_002
Repository:
Robert and Elizabeth Dole Archive and Special Collections
Found in:
Rights:
White House photo; public domain