Bob Dole with Colin Powell and John Warner | Robert and Elizabeth Dole Archive and Special Collections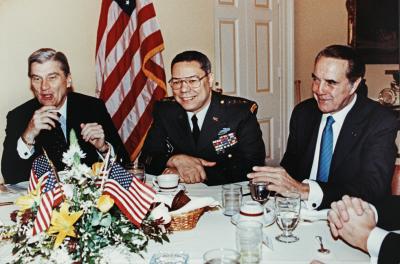 ph_039_056_001.jpg (JPEG Image, 342.95 KB)
Download Original File

To request a hi-res copy, contact us at dolearchives@ku.edu
Title:
Bob Dole with Colin Powell and John Warner
Description:
Warner, John W., 1927-); Powell, Colin L.; and Dole, Robert J., 1923-). Bob Dole is sitting at a table with Chairman of the Joint Chiefs of Staff Colin Powell (to Bob Dole's immediate right) and Senator John Warner. John Warner is speaking and Colin Powell and Bob Dole are smiling. There are glasses, plates, silverware, flowers, and food visible on the table. There is a flag, a doorway, a baseball bat and a portrait visible in the background.
Phys. Desc:
Color; 6"x9" photograph.
ID:
ph_039_056_001
Repository:
Robert and Elizabeth Dole Archive and Special Collections
Found in: