Bob Dole with Bob Price in Washington D.C. | Robert and Elizabeth Dole Archive and Special Collections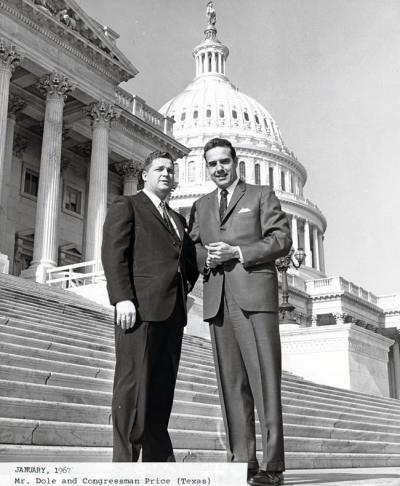 ph_114_019_001.jpg (JPEG Image, 227.74 KB)
Download Original File

To request a hi-res copy, contact us at dolearchives@ku.edu
Title:
Bob Dole with Bob Price in Washington D.C.
Date:
1967-01
Description:
Price, Robert D. (Robert Dale), 1927-2004; and Dole, Robert J., 1923-. Bob Dole is posed outside of the US Senate building with Congressman Bob Price. They are standing on the stairs. The inscription on the front of the photograph says, "JANUARY, 1967 Mr. Dole and Congressman Price (Texas).
Phys. Desc:
B & W; 8"x10" photograph.
ID:
ph_114_019_001
Repository:
Robert and Elizabeth Dole Archive and Special Collections
Found in: