Bob Dole with Bob Price and Marland Hays (President of Southwestern Indian Organization) | Robert and Elizabeth Dole Archive and Special Collections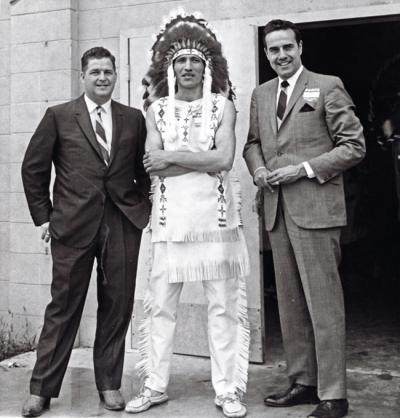 ph_007_007_001 (JPEG Image, 187.3 KB)
Download Original File

To request a hi-res copy, contact us at dolearchives@ku.edu
Title:
Bob Dole with Bob Price and Marland Hays (President of Southwestern Indian Organization)
Date:
1967-06-25
Description:
Price, Robert D. (Robert Dale), 1927-2004; Hays, Marland and Dole, Robert J., 1923-). Bob Dole is standing with Marland Hays (middle) and Congressman Bob Price (left). There is a building and grass visible in the background. Bob Dole is wearing a name tag that says, "PAMPA WELCOMES YOU." The handwritten inscription on the back says, "Cong. Bob Price, Marland Hays, president of Southwestern Indian Organization at in, Pampa, Cong Bob Dole, Sunday June 25, 1967."
Phys. Desc:
B & W, 8"x10" photograph.
ID:
ph_007_007_001
Repository:
Robert and Elizabeth Dole Archive and Special Collections
Found in: