Bob Dole speaking with Trent Lott and Shimon Peres | Robert and Elizabeth Dole Archive and Special Collections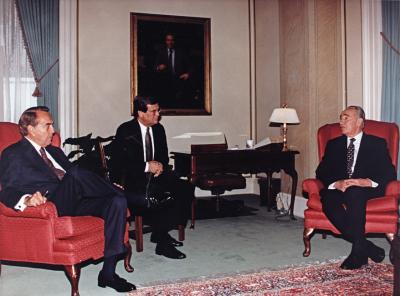 dip.ppl_16_46042.jpg (JPEG Image, 268.86 KB)
Download Original File

To request a hi-res copy, contact us at dolearchives@ku.edu
Title:
Bob Dole speaking with Trent Lott and Shimon Peres
Date:
1985-10-17
Description:
Dole, Robert J., 1923-; Lott, Trent, 1941- and Peres, Shimon, 1923-. Bob Dole and Trent Lott are sitting in separate chairs and facing Shimon Peres who is sitting in another chair. Shimon Peres is speaking and looking at Bob Dole. There is a portrait, a desk with a lamp on it, a rug, a plant and two windows visible in the background. There is a tag taped to the back of the photograph that says, "Senator Dole Senator Trent Lott, Mississippi, Majority Whip S[h]imon Pere[s], Prime Minister of Israel."
Phys. Desc:
Color; 8"x10" photograph.
ID:
ppl_16_46042
Repository:
Robert and Elizabeth Dole Archive and Special Collections
Found in:
Dole Photograph Collection (Old Arrangement - For Reference Only), 1880-1996