Bob Dole speaking with Cokie Roberts | Robert and Elizabeth Dole Archive and Special Collections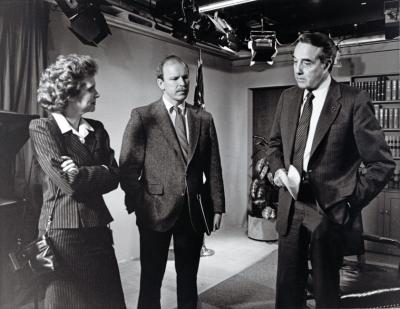 ph_063_010_001.jpg (JPEG Image, 229.25 KB)
Download Original File

To request a hi-res copy, contact us at dolearchives@ku.edu
Title:
Bob Dole speaking with Cokie Roberts
Date:
1987-03-13
Description:
Roberts, Cokie and Dole, Robert J., 1923-. Bob Dole is standing and looking at the ground while speaking to Cokie Roberts. Between them is an unidentified man. There are lights, books, a plant and a flag visible in the background. The stamp on the back of the photograph says, "U.S. Senate Photograph Mar 13 1987."
Phys. Desc:
B & W; 8"x10" photograph.
ID:
ph_063_010_001
Repository:
Robert and Elizabeth Dole Archive and Special Collections
Found in:
Rights:
U.S. Senate photograph; public domain