Bob Dole joking around with Donald Rumsfeld | Robert and Elizabeth Dole Archive and Special Collections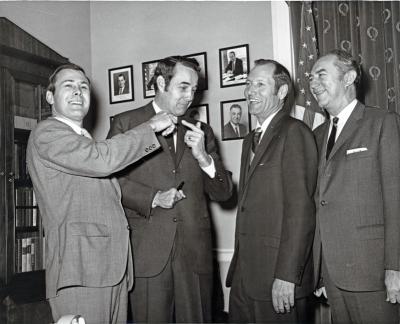 ph_022_013_002.jpg (JPEG Image, 226.5 KB)
Download Original File

To request a hi-res copy, contact us at dolearchives@ku.edu
Title:
Bob Dole joking around with Donald Rumsfeld
Description:
Rumsfeld, Donald, 1932- and Dole, Robert J., 1923-. Donald Rumsfeld has is right hand next to Bob Dole's face and is smiling. Bob Dole is moving his face away from Donald Rumsfeld's hand and is pointing to Donald Rumsfeld with his left hand. There are two unidentified men standing next to Bob Dole. There are portraits, a book hutch, an American flag and a window visible in the background.
Phys. Desc:
B & W; 8"x10" photograph.
ID:
ph_022_ 013_002
Repository:
Robert and Elizabeth Dole Archive and Special Collections
Found in: