Bob Dole speaking with John J. Rhodes | Robert and Elizabeth Dole Archive and Special Collections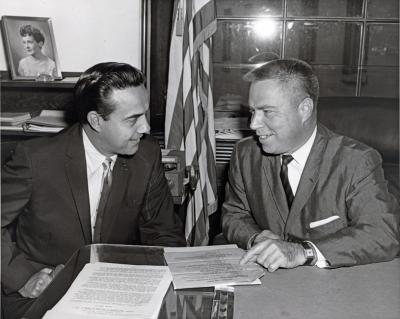 ph_007_009_001 (JPEG Image, 212.45 KB)
Download Original File

To request a hi-res copy, contact us at dolearchives@ku.edu
Title:
Bob Dole speaking with John J. Rhodes
Date:
1961-09
Description:
Dole, Robert J., 1923- and Rhodes, John J. (John Jacob), 1916-2003. Bob Dole is sitting down and is facing Congressman John J. Rhodes. John J. Rhodes is pointing at a sheet of paper and is looking at Bob Dole. There is a picture, a flag, and a window visible in the background.
Phys. Desc:
B & W, 8"x10" photograph.
ID:
ph_007_009_001
Repository:
Robert and Elizabeth Dole Archive and Special Collections
Found in: