Bob Dole speaking with Donald Rumsfeld and Joyce Rumsfeld | Robert and Elizabeth Dole Archive and Special Collections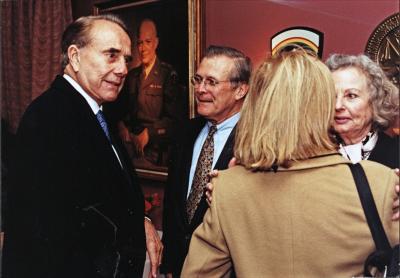 ph_022_013_003.jpg (JPEG Image, 262.84 KB)
Download Original File

To request a hi-res copy, contact us at dolearchives@ku.edu
Title:
Bob Dole speaking with Donald Rumsfeld and Joyce Rumsfeld
Date:
2001-01-26
Description:
Dole, Robert J., 1923-; Rumsfeld, Donald, 1932-; and Rumsfeld, Joyce. Bob Dole is standing in front of Donald Rumsfeld who is looking at Bob Dole. To Donald Rumsfeld's left is Joyce Rumsfeld who is speaking to an unidentified woman (her back is to the camera). There is a portrait of Dwight Eisenhower visible in the background. The inscription on the back says, "Armed Forces Full Honors Welcome Ceremony followed by a reception in the Eisenhower Corridor in honor of Donald H. Rumsfeld January 26, 2001."
Phys. Desc:
Color; 5"x7" photograph.
ID:
ph_022_013_003
Repository:
Robert and Elizabeth Dole Archive and Special Collections
Found in: