Bob Dole with Garner Shriver, Bill Richardson and Walter McVey on the steps of the Senate building | Robert and Elizabeth Dole Archive and Special Collections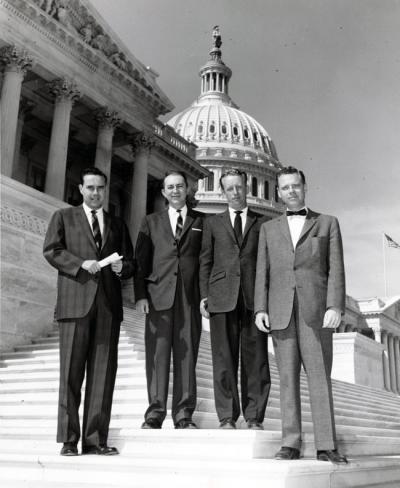 ph_007_010_001 (JPEG Image, 185.97 KB)
Download Original File

To request a hi-res copy, contact us at dolearchives@ku.edu
Title:
Bob Dole with Garner Shriver, Bill Richardson and Walter McVey on the steps of the Senate building
Date:
1961-04-03
Description:
Dole, Robert J., 1923-; Shriver, Garner Edward; Richardson, Elliot L, 1920-1999; and McVey, Walter L. (Walter Lewis), 1922-. Bob Dole is standing with former Representative, Garner Shriver, former Representative, Bill Richardson and former Congressman, Walter McVey. They are standing on the steps of the Senate building. The tag on the back states "STATE REPRESENTATIVE BILL RICHARDSON IS PICTURED WITH THREE REPUBLICAN CONGRESSMEN, LEFT TO RIGHT, BOB DOLE, GARNER SHRIVER, RICHARDSON AND WALTER McVEY ON THE STEPS OF THE UNITED STATES CAPITOL IN WASHINGTON D.C.  RICHARDSON SERVED IN THE STATE LEGISLATURE WITH McVEY AND SHRIVER. DOLE IS HIS 6th DISTRICT CONGRESSMAN.  RICHARDSON WAS IN WASHINGTON ATTENDING THE RE-ENACTMENT OF THE FIRST INAUGURATION OF ABRAHAM LINCOLN ON SATURDAY, MARCH 4, 1961."
Phys. Desc:
B & W; 8"x10" photograph.
ID:
ph_007_010_001
Repository:
Robert and Elizabeth Dole Archive and Special Collections
Found in: