Celebrating Bob Dole's 70th Birthday, 1993 | Robert and Elizabeth Dole Archive and Special Collections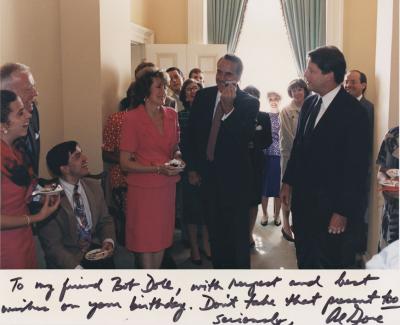 ph_160_023_001.jpg (JPEG Image, 134.71 KB)
Download Original File

To request a hi-res copy, contact us at dolearchives@ku.edu
Title:
Celebrating Bob Dole's 70th Birthday, 1993
Date:
1993-07-22
Description:
Gore, Albert, 1948-; Dole, Robert J., 1923-; Dole, Elizabeth Hanford, Dole is holding up a rectangular object that says DOLE, Elizabeth Dole is holding a piece of cake, Al Gore is standing to the side looking at Bob Dole
Phys. Desc:
Color, 8 x 10", landscape, Inscriptions: "To my friend Bob Dole, with respect and best wishes on your birthday. Don't take that present too seriously, Al Gore"
ID:
ph_160_023_001
Repository:
Robert and Elizabeth Dole Archive and Special Collections
Found in:
Rights:
Public Domain