Bob Dole with Senator Charles Robb at retirement party | Robert and Elizabeth Dole Archive and Special Collections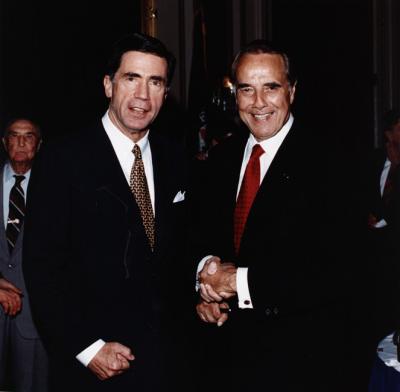 ph_047_043_001.jpg (JPEG Image, 104.1 KB)
Download Original File

To request a hi-res copy, contact us at dolearchives@ku.edu
Title:
Bob Dole with Senator Charles Robb at retirement party
Date:
1996
Description:
Thurmond, Strom, 1902-2003; Robb, Charles and Dole, Robert J., 1923-. Bob Dole is standing with Senator Charles Robb. They are shaking hands and facing the camera. Behind Robb and to the left is Senator Strom Thurmond. There is an unidentified man to the right. There is a table, a flag and a table visible in the background.
Phys. Desc:
Color; 8"x10" photograph.
ID:
ph_047_043_001
Repository:
Robert and Elizabeth Dole Archive and Special Collections
Found in: