Bob Dole shaking hands with a man at the Chicago Mercantile Exchange | Robert and Elizabeth Dole Archive and Special Collections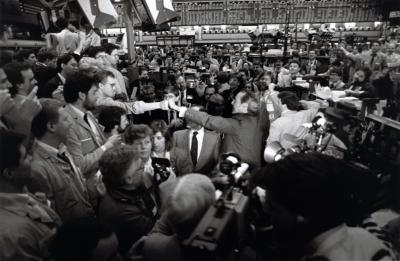 ph_102_007_003 (JPEG Image, 233.46 KB)
Download Original File

To request a hi-res copy, contact us at dolearchives@ku.edu
Title:
Bob Dole shaking hands with a man at the Chicago Mercantile Exchange
Date:
1988-03-14
Description:
Dole, Robert J., 1923-. Bob Dole is amongst a crowd of unidentified people. He is shaking hands with a man wearing glasses. It is a view of his left side. In the bottom right corner of the photograph there are cameramen. The inscription on the back states, "Chicago Mercantile Exchange 3-14-88."
Phys. Desc:
B & W 8"x10" photograph.
ID:
ph_102_007_003
Repository:
Robert and Elizabeth Dole Archive and Special Collections
Found in: