Bob Dole giving speech at podium in front of a large American Flag | Robert and Elizabeth Dole Archive and Special Collections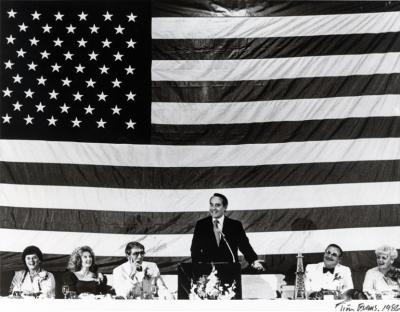 ph_113_006_002 (JPEG Image, 223.98 KB)
Download Original File

To request a hi-res copy, contact us at dolearchives@ku.edu
Title:
Bob Dole giving speech at podium in front of a large American Flag
Date:
ca. 1986
Description:
B & W; 8"x10" photograph.
Phys. Desc:
Dole, Robert J., 1923-. Bob Dole is standing behind a podium giving a speech in front of a large American flag. There are three people sitting to his right and two people sitting to his left. There are flowers in front of the podium. Photo created by Jim Evans, 1986. Evans' signature is in the bottom right corner of the photo.
ID:
ph_113_006_002
Repository:
Robert and Elizabeth Dole Archive and Special Collections
Found in:
Rights:
Jim Evans