Bob Dole speaking with campaign volunteers at Voting Ward I in Russell Kansas | Robert and Elizabeth Dole Archive and Special Collections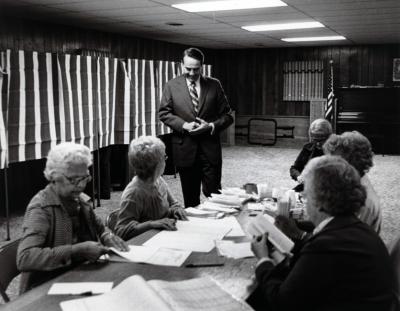 ph_101_001_008 (JPEG Image, 202.47 KB)
Download Original File

To request a hi-res copy, contact us at dolearchives@ku.edu
Title:
Bob Dole speaking with campaign volunteers at Voting Ward I in Russell Kansas
Date:
1980-11-04
Description:
Dole, Robert J., 1923-). Bob Dole is standing next to a table where there are five unidentified women standing. One of the women is looking at Bob Dole who is smiling back at her. There are stacks of paper visible on the table. There are voting booths, a flag, a window, a piano, and a podium visible in the background. The inscription on the back of the photograph says, "Dole visits campaign volunteers."
Phys. Desc:
B & W; 8"x10" photograph.
ID:
ph_101_001_008
Repository:
Robert and Elizabeth Dole Archive and Special Collections
Found in: