Gerald Ford giving speech at Capitol bust dedication | Robert and Elizabeth Dole Archive and Special Collections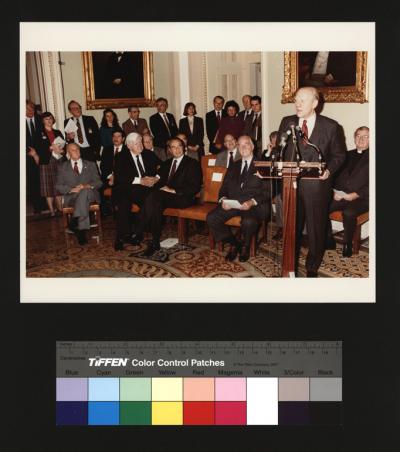 dip.maj_1_46090.jpg (JPEG Image, 269.64 KB)
Download Original File

To request a hi-res copy, contact us at dolearchives@ku.edu
Title:
Gerald Ford giving speech at Capitol bust dedication
Date:
1985-12-04
Description:
Thurmond, Strom, 1902-2003; O'Neill, Tip; Dole, Robert J., 1923-; and Ford, Gerald R., 1913-2006. Gerald Ford is standing at a podium giving a speech. Behind him, sitting in chairs, are Strom Thurmond (left), Tip O'Neill, and Bob Dole. Behind them are a number of unidentified people standing and sitting. There are two portraits visible in the background.
Phys. Desc:
Color; 8"x10" photograph.
ID:
ph_049_023_003
Repository:
Robert and Elizabeth Dole Archive and Special Collections
Found in:
Rights:
U.S. Senate photograph; public domain