Bob Dole with staff in office | Robert and Elizabeth Dole Archive and Special Collections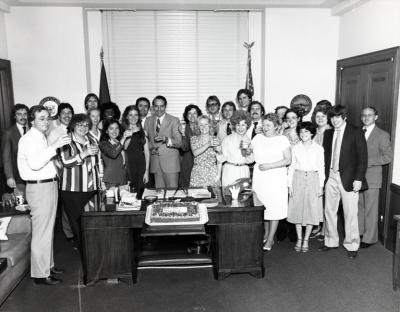 ph_101_001_002 (JPEG Image, 213.76 KB)
Download Original File

To request a hi-res copy, contact us at dolearchives@ku.edu
Title:
Bob Dole with staff in office
Date:
c.1980
Description:
Dole, Robert J., (1923-); Dole, Elizabeth Hanford; Coe, Jo ann; and Burke, Sheila. Bob Dole with Elizabeth Dole, Joann Coe, Sheila Burke and other unidentified people in an office. The group appears to be making a toast and there is a cake that says "Bob Dole President."
Phys. Desc:
B & W 8" x 10" photograph.
ID:
ph_101_001_002
Repository:
Robert and Elizabeth Dole Archive and Special Collections
Found in:
Rights:
U.S. Senate Photograph; public domain