Bob Dole being sworn into Senate by Vice President Walter Mondale | Robert and Elizabeth Dole Archive and Special Collections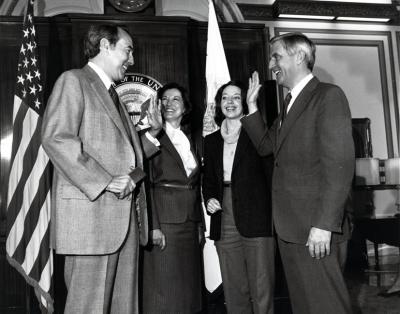 ph_101_001_001 (JPEG Image, 222.59 KB)
Download Original File

To request a hi-res copy, contact us at dolearchives@ku.edu
Title:
Bob Dole being sworn into Senate by Vice President Walter Mondale
Date:
ca. 1980
Description:
Dole, Robert J., 1923-; Dole, Elizabeth Hanford; Dole, Robin; and Mondale, Walter. Bob Dole with Elizabeth Dole, Robin Dole and Walter Mondale in Washington D.C. [?] Vice President Mondale was president of the senate.
Phys. Desc:
B & W 8"X 10" photograph.
ID:
ph_101_001_001
Repository:
Robert and Elizabeth Dole Archive and Special Collections
Found in:
Rights:
U.S. Senate photograph; public domain