Bob Dole speaking with Gerald Ford | Robert and Elizabeth Dole Archive and Special Collections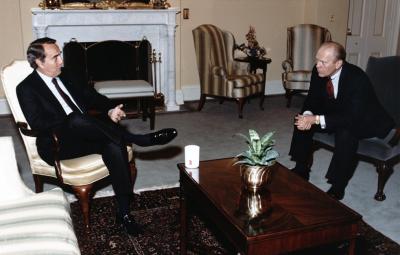 ph_049_023_002 (JPEG Image, 256.61 KB)
Download Original File

To request a hi-res copy, contact us at dolearchives@ku.edu
Title:
Bob Dole speaking with Gerald Ford
Date:
1985-12-04
Description:
Dole, Robert J., 1923-; and Ford, Gerald R., 1913-2006. Bob Dole is speaking with Gerald Ford (to the left of Bob Dole). Bob Dole has his left hand up. Gerald Ford is leaning forward. There are two plants, three chairs, one couch, one doorway and a fireplace visible in the photograph. The inscription on the back of the photograph says, "U.S. SENATE PHOTOGRAPH DEC 4 1985."
Phys. Desc:
Color, landscape, 8"x10" photograph.
ID:
ph_049_023_002
Repository:
Robert and Elizabeth Dole Archive and Special Collections
Found in:
Rights:
U.S. Senate photograph; public domain