Bob Dole is posed with astronauts from STS-51-D mission (flew in April 1985) | Robert and Elizabeth Dole Archive and Special Collections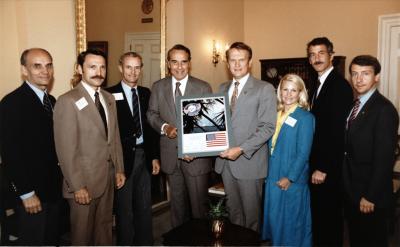 ph_051_032_001 (JPEG Image, 248.09 KB)
Download Original File

To request a hi-res copy, contact us at dolearchives@ku.edu
Title:
Bob Dole is posed with astronauts from STS-51-D mission (flew in April 1985)
Date:
1985-06-19
Description:
Garn, Jake; Griggs, David; Williams, Donald E.; Dole, Robert J., 1923-); Bobko, Karol Joseph; Seddon, Margaret Rhea; Hoffman, Jeffrey A. and Walker, Charles D. Bob Dole is holding a plaque that has the STS-51-D logo on it as well as an American flag. Karol Bobko (on Bob Dole's left) is also holding onto the plaque. Donald Williams is on Bob Dole's right and next to him are David Griggs and Jake Garn. Next to Karol Bobko are Margaret Seddon, Jeffrey Hoffman and Charles Walker. There is a table with a small plant on it visible. There is also a mirror visible. The inscription on the background says, "U.S. SENATE PHOTOGRAPH JUN 19 1985."
Phys. Desc:
Color; 8"x10" photograph.
ID:
ph_051_032_001
Repository:
Robert and Elizabeth Dole Archive and Special Collections
Found in:
Rights:
U.S. Senate photograph; public domain