Elizabeth Dole celebrating their 10th Anniversary | Robert and Elizabeth Dole Archive and Special Collections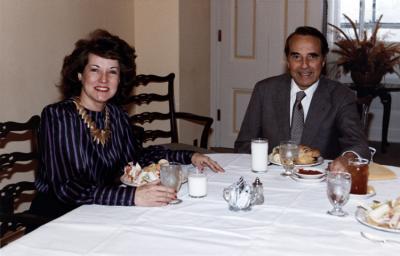 ph_004_029_001 (JPEG Image, 145.89 KB)
Download Original File

To request a hi-res copy, contact us at dolearchives@ku.edu
Title:
Elizabeth Dole celebrating their 10th Anniversary
Date:
1985-12-6
Description:
Dole, Elizabeth Hanford and Dole, Robert J., 1923-). Bob Dole and Elizabeth Dole are sitting at a table. There are three plates of food [possibly Robin Dole was there]. Elizabeth is holding on to her water glass. Bob Dole has his left arm on the table. They both have glasses of milk in front of them. There is a doorway, window and plant visible in the background. The inscription on the back of the photograph says, "U.S. SENATE PHOTOGRAPH DEC 6 1985."
Phys. Desc:
Color; 8"x10" photograph.
ID:
ph_004_029_001
Repository:
Robert and Elizabeth Dole Archive and Special Collections
Found in:
Rights:
U.S. Senate Photograph; public domain