Bob Dole with Keith Sebelius and others | Robert and Elizabeth Dole Archive and Special Collections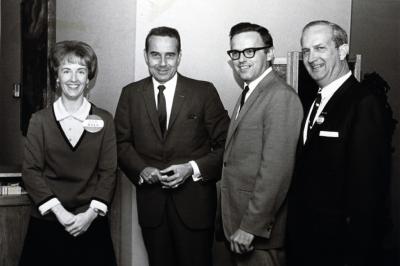 ph_111_036_001 (JPEG Image, 181.76 KB)
Download Original File

To request a hi-res copy, contact us at dolearchives@ku.edu
Title:
Bob Dole with Keith Sebelius and others
Date:
1968
Description:
Unidentified woman; Dole, Robert J., 1923-; unidentified man and Sebelius, Keith. The inscription on the back of the photograph says, "Campaign scrapbook 1968, Helping the ticket Keith Sebelius, Bob Dole spent several days in western Kansas with his friend. Keith Sebelius in a special effort to help Keith made sure Dole's congressional seat remained Republican."
Phys. Desc:
B & W; 5"x7" photograph ; glue stain on back.
ID:
ph_111_036_001
Repository:
Robert and Elizabeth Dole Archive and Special Collections
Found in: