Bob Dole cheered by fellow Republicans during 96 Convention reception | Robert and Elizabeth Dole Archive and Special Collections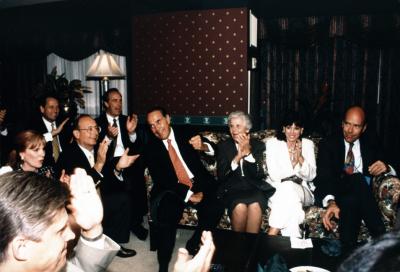 ph_106_002_001 (JPEG Image, 226.85 KB)
Download Original File

To request a hi-res copy, contact us at dolearchives@ku.edu
Title:
Bob Dole cheered by fellow Republicans during 96 Convention reception
Date:
1996-8-12/15
Description:
D'Amato, Alfonse; Kempthorne, Dirk, 1951-) and Dole, Robert J., (1923-). Bob Dole is making a fist with his left hand and holding it in the air. He is sitting on a floral couch with three unidentified people. Alfonse D'Amato and Dirk Kempthorne are clapping their hands. There are other unidentified people clapping their hands. Photograph created by Richard Sobol.
Phys. Desc:
Color; 8"x12" photograph.
ID:
ph_106_002_001
Repository:
Robert and Elizabeth Dole Archive and Special Collections
Found in:
Rights:
Richard Sobol