Bob and Elizabeth Dole with President Ronald Reagan at Russell Long Dinner | Robert and Elizabeth Dole Archive and Special Collections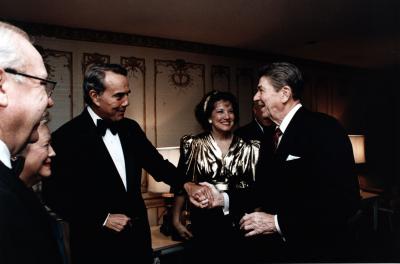 ph_029_002_001.jpg (JPEG Image, 248.48 KB)
Download Original File

To request a hi-res copy, contact us at dolearchives@ku.edu
Title:
Bob and Elizabeth Dole with President Ronald Reagan at Russell Long Dinner
Date:
1985-10-16
Description:
Long, Russell B.;____; Dole, Robert J., 1923-; Dole, Elizabeth Hanford; Reagan, Ronald; Senator Bob Dole shaking Ronald Reagan's hand at the Russell Long Dinner at the Madison Hotel.  Russell Long is standing with a woman that is possibly his wife.  Elizabeth Dole stands in an shiny gold shirt in between Bob Dole and Ronald Reagan.
Phys. Desc:
Color; 8"x10' landscape; Inscription on back: "Russell Long Dinner; Madison Hotel; October 16, 1985; (hosted by Doles + Strausses)"
ID:
ph_029_002_001
Repository:
Robert and Elizabeth Dole Archive and Special Collections
Found in:
Rights:
White House Official Photograph; public domain