Bob Dole with Senators Tom Daschle and Trent Lott | Robert and Elizabeth Dole Archive and Special Collections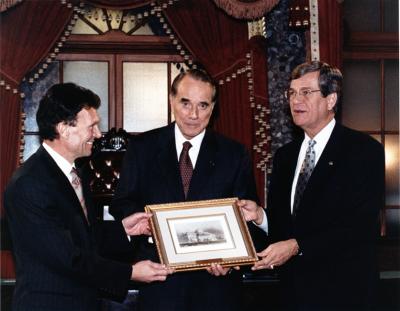 ph_138_031_001.jpg (JPEG Image, 231.63 KB)
Download Original File

To request a hi-res copy, contact us at dolearchives@ku.edu
Title:
Bob Dole with Senators Tom Daschle and Trent Lott
Date:
2000-03-28
Description:
Senators Bob Dole, Tom Daschle, and Trent Lott hold a picture of the Capitol building.  Senator Dole spoke as part of the Leaders Lecture in the Old Senate Chamber.  There is a chair, desk, and curtains behind the senators.
Phys. Desc:
Color; Landscape; 8"x10"
ID:
ph_138_031_001
Repository:
Robert and Elizabeth Dole Archive and Special Collections
Found in:
Rights:
U.S. Senate Historical Office