1976 Election Day Rally at Bob Dole's Residence | Robert and Elizabeth Dole Archive and Special Collections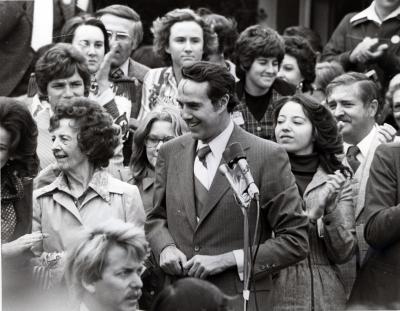 ph_100_008_001 (JPEG Image, 388.55 KB)
Download Original File

To request a hi-res copy, contact us at dolearchives@ku.edu
Title:
1976 Election Day Rally at Bob Dole's Residence
Date:
1976-11-02
Description:
Dole, Elizabeth Hanford; Dole, Bina M. Talbot; Dole, Robert J., 1923-; Family and a crowd are standing behind Bob Dole.  Bob Dole and family are looking to their right. They are gathered at the Dole resident in Russell, Kansas.
Phys. Desc:
Black and White; 8"x10"
ID:
ph_100_008_001
Repository:
Robert and Elizabeth Dole Archive and Special Collections
Found in: