Castle d'Aiano in 1945 | Robert and Elizabeth Dole Archive and Special Collections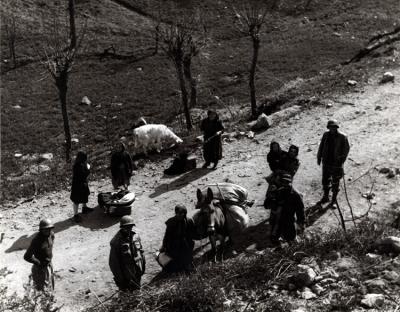 ph_005_003_001 (JPEG Image, 252.61 KB)
Download Original File

To request a hi-res copy, contact us at dolearchives@ku.edu
Title:
Castle d'Aiano in 1945
Date:
5 April 1945
Description:
Upper left to right: Capponi, Ebe; Righetti Capponi, Luciana [Paola's mother]; Poggi, Ernestina [mother of Luciana]; Lower left to right: Manchester, Sgt. Robert W.; Schimke, T/Sgt. Arthur O.; Benassi, Clelia; Arabia, PFC Anthony; Small boy: Righetti, Tony; Righetti, Paola; Monzoni Palmieri, Maria; Barr, Lt. Robert S. [1st Platoon Leader, 87th Mtn. Inf. killed in action - Mt. Croce April 15, 1945]
Phys. Desc:
Black and white 8 x 10"
ID:
ph_005_003_001
Repository:
Robert and Elizabeth Dole Archive and Special Collections
Found in: