Sen. Dole with John Higginson and his family | Robert and Elizabeth Dole Archive and Special Collections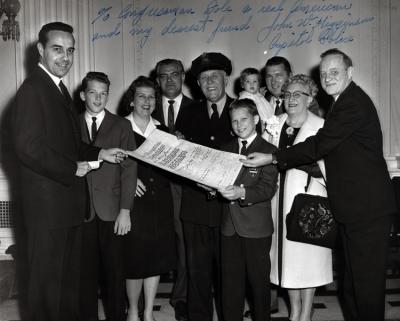 ph_008_009_001 (JPEG Image, 164.88 KB)
Download Original File

To request a hi-res copy, contact us at dolearchives@ku.edu
Title:
Sen. Dole with John Higginson and his family
Date:
1960s
Description:
Dole, Robert J., 1923-; Higginson, John William; Holding a certificate that reads "In recognition for his many years of service as a Capitol Hill policeman we bid a sad goodbye to John William Higginson Your cheerful "good mornings" and "see you tomorrows" have been welcomed by Congressmen and staff members alike and will certainly be missed. Capitol Hill will be losing part of its personality with your departure, but nevertheless each of us wish you many happy, full years of retirement."; Written on the front: To Congressman Dole a real American and my dearest friend John W. Higginson Capitol Police
Phys. Desc:
Black and white 8 x 10"
ID:
ph_008_009_001
Repository:
Robert and Elizabeth Dole Archive and Special Collections
Found in: