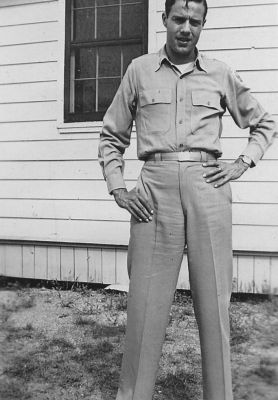 Bob Dole at Camp Barkeley, 1943
Kenny Dole at Camp Barkeley, 1943
Bob Dole, along with many other Americans of his time, including his brother Kenneth (Kenny), served in the Army during World War II. He reported for active duty in June 1943, having left the University of Kansas as a sophomore.
Bob and Kenny Dole briefly trained together at Camp Barkeley, Texas, where Bob was in the Medical Corps. After Texas, Bob went to Brooklyn, New York, to take engineering classes, then to several other bases to complete his training as a second lieutenant.
Bob went on to the Mediterranean Theater of Operations in Italy, where he was ultimately wounded near Castel d'Aiano on April 14, 1945. Kenny was sent to the South Pacific and the campaign to liberate the Philippines, where he earned several medals before his January 1946 discharge.
This exhibit showcases a selection of letters written between members of the Dole family from 1941-1947. You may notice in the letters that Kenny is alternately referred to as Kenny, Kenney, and Kenneth. For consistency, we have used the "Kenny" spelling throughout. The letters range from Bob Dole's college years at the University of Kansas, to Bob and Kenny's military service in World War II, and through the years of recuperation required for the injury that Bob Dole sustained during the war.